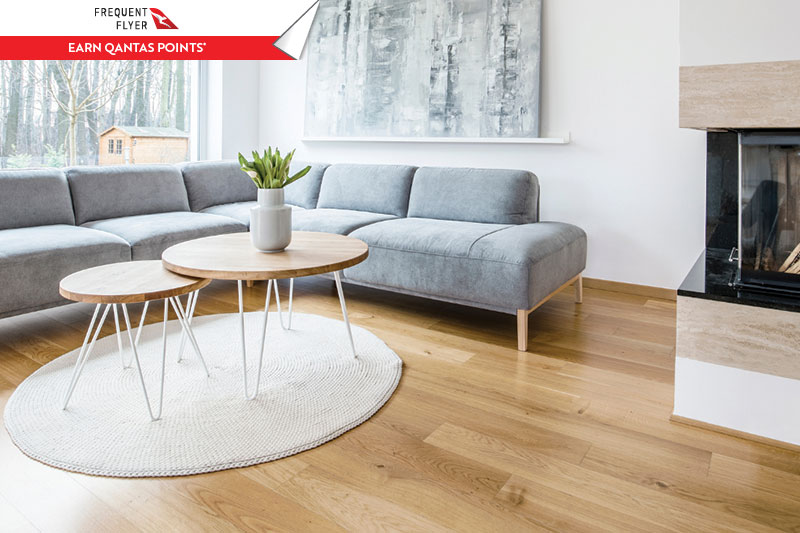 Engineered Timber Flooring Successfully Elevates Any Room in a Modern or Classic Home With an Elegant and Stunning Finish
Select images below to explore our flooring styles and colour ranges.
Sturdy and classic, this flooring looks remarkably like solid wood flooring. Able to elevate any room with its convincing finish, Engineered Timber Flooring is a high-quality choice for modern and classic homes alike. This warm and sophisticated flooring elicits feelings of tranquility and elegance.
Although durable and long-lasting, Engineered Timber Flooring remains comfortable to walk on. Built to stand up to even the busiest households, this flooring is the ideal combination of luxury and practicality. Soft underfoot, these planks make for a less strenuous walking platform within your house and with their reinforced layers, less likely to creak.
Made almost entirely from sustainable plantation plywood, this eco-conscious option is a greener alternative to traditional wood floorboards. With a focus on renewable timber sources, these planks are perfect for anyone looking for an eco-friendlier flooring option. Responsibly harvested, the creators of Engineered Timber Flooring are cognizant of the long-term environmental goals for the industry and keep this in mind. For those with allergy concerns, Engineered Timber Flooring resists more allergens than standard wood flooring. Unlike traditional wood flooring that can often hold dirt and other irritants, these planks are able to create a closer seal to avoid build up.
Engineered Timber Floorboards are reinforced with plywood layers reducing the chances of splitting. These stable planks allow for a more consistent surface level that can withstand everyday wear and tear. This flooring can withstand high foot-traffic and messes that happen in busy homes. Easy to clean, Engineered Timber Flooring is a family-friendly option.
As these planks are not as thick as traditional wood, they are often able to be installed directly over existing flooring without costly renovations. This makes for a quicker installation and less prep time. Engineered Timber Flooring comes with all the benefits of real wood without the same level of maintenance required. Manufactured with triple layers of plywood, this flooring can withstand heavy activity without splitting. Engineered Timber is built to last and keep up with the many needs of the modern household.
Available in a variety of grains and designs, including the Australian Natives collection, which features Australian wood such as Spotted Gum and Tasmanian Oak. From soft beige to dark brown, the hues and tones offered in this collection are sure to add elegance to any space. Also available in our European Oak series with several tones and shades. The natural wood options offered in these collections range from Platinum and Blonde to Dark Chocolate and Espresso. There is sure to be a style and hue that suits the needs for modern, classic, and contemporary homes.
Highlight all that nature has to offer with the innovative, state-of-the-art flooring options available in the Eucalypt, Organic, Forever and Adore Collections. Ranging from the most subtle to the most overt, there is something for everyone. The Eucalypt Collection showcases all the beauty that Australian woods have to offer in both classic and rustic finishings. The Organic Collection is perfect for that 'Farmhouse chic' that has become so coveted in home design. The Forever Collection offers twelve exciting colours sure to become a showpiece in any home and the Adore Herringbone brings the epitome of European design to the forefront in their six signature colours.
Although these planks are easy to install for the go-getter DIYer, a team of professionals would be able to implement them in a quick turnaround. After carefully considering the space and the number of planks required, a team would then install the flooring with little mess.
Flooring Colour Ranges