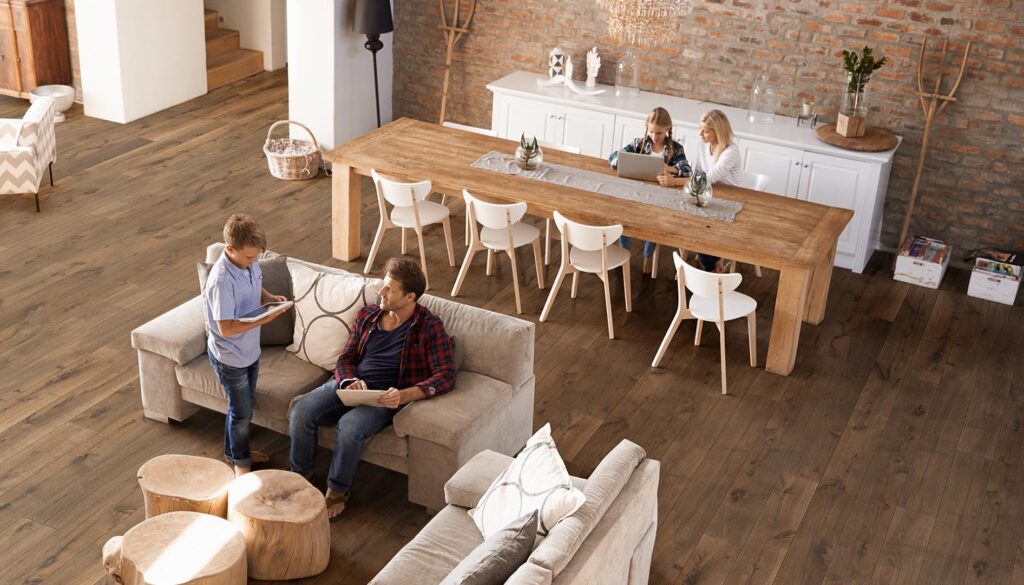 Quality Hardwood Timber Flooring For Your Home or Business
Dominating the local trade since 1991, it's no secret that we are very passionate about all kinds of timber flooring products and finishes.
From our thorough knowledge of the hardwood timber species on offer, to specialising in high-end parquetry flooring, showcasing the best cork, bamboo and engineered floating floors, or our view on the latest coatings systems we take pride in offering the best solution to suit any style, location or budget.
Choosing Flooring Options:
In order to find the ideal timber flooring products for your home or business, clients should consider the following questions:
What style is your home? Classic, modern, contemporary, whimsical- these options can help narrow down the Hybrid Flooring option best suited for your space
What size floorboard do you need for your space? Floorboards come in a variety of lengths, thicknesses, and widths. Determining what might best fill your allocated space will help determine what flooring option is ideal.
What colour and design interests you? From neutral to eye-catching, timber flooring suits every need and taste. Whether you want a more subtle addition to a room or to add a pop of colour, this flooring has a wide variety of options.
What kind of wood patterns are you looking for? Choose timber flooring to compliment your home design and finishings while knowing that the durable and resilient materials will stand up to the busiest households. Available in a number of shades and colours, our extensive timber flooring products can bring life and vibrancy or subtle character to any space in the house. Depending on the line, these flooring options can be featured in bedrooms, living rooms, kitchens and even laundry rooms.
If you are choosing to go for a wood-based floor design, there are a number of timber flooring products available: